Public Device Charging Furniture - Cabled and Wireless Options with Qi and PMA Technology
---
Recharging Smart Phone & Tablet Furniture for Public Facilities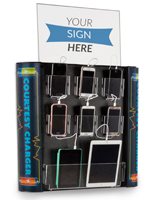 Have you ever been at a mall or public venue and realize your smartphone won't make it through the day? With the help of our public device charging furniture, there's always peace of mind that your cell phone or tablet can be recharged. Today, Apple or Android smartphones are lifelines and contain vital information that people need to function every day. Whether that's staying in contact with loved ones, or posting a great picture, people rely on their phones always being charged. Our rechargeable docks are found in many public places like malls, airports, sport venues, music halls, and universities. Any high-traffic area can benefit from quality public device charging furniture. Our metal recharging stations help both customers and businesses. Users will be happy to have a charged device, and companies can take advantage of a free advertising opportunity. Companies can display signage within any of our freestanding or wall mounted public device charging furniture. While people are juicing up their cellular phones or tablets, maybe they'll decide to visit your store!
What types of recharging stations do you have to offer?
Public device charging furniture come in a variety of wall mounted and freestanding models to suit any environment. Wall mounted designs work best in crowded areas where they won't take up much space. Floor standing fixtures are ideal where large groups of people can congregate around their devices.
Wall mounted units come with eight cables for powering up your device. These fixtures also have six slots to hold cell phones and a large area to hold tablets for when they charge. Each station comes with a section at the top to hold signage, and on the sides there is space for text. Models with no text as well as with custom graphics are available. Stock sign options can also be purchased that read "RECHARGE", "Courtesy Charge" and "Charging Station".
Freestanding designs have eight, ten, or twenty recharging cords. Each fixture has a 22"x28" poster size available for signage - some are even double-sided! There are models available with shelves to rest devices on while recharging. There are units with brochure holders available too, as well as docks with inserts to hold phones and tablets. These models come in handy in crowded places where shelves can't fit. The freestanding designs are a great way for companies to brand themselves or promote upcoming events. The large signage space and brochure holder option makes it easy to advertise to people powering up their devices.
Desktop stations with multiple inserts are ideal for shared spaces like libraries or coffee shops where people can recharge while they are enjoying themselves.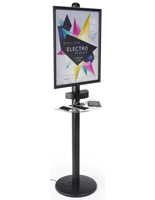 These mobile charging units have built-in power integration and cable adaptors which makes them possible to fit multiple phone and tablets. In fact, these recharging docks are almost as extravagant as the devices they are made to support! A user only needs one external source to power our docking stations in its entirety thanks to the integrated power management. Many of our recharging units are constructed in-house as a part of our Workshop Series of device charging docks. We believe that high quality products don't have to come with a hefty price tag. All our products we make are competitively priced and use quality materials!
At Displays2go we take pride in providing our customers quick shipping and the lowest prices around. If you're looking for other device charging stations for laptops and larger tablets, we have locking recharging carts to fit your needs. If it's your first time investing in a product like this, we have a charging dock buying guide to help assist you in the process. Shop online today!